Express your interest on time to schedule a date by phone on 6972846291/6974700132 or email info@polytheasi.gr 
and we send you a letter with detailed information, promotional packages for actions in schools, clubs and groups of visitors, including meals.
We apply our pre-ordering meal policy to achieve satisfactory and affordable prices.
We organize together farewell parties for elementary schools, secondary schools, high schools, reunions etc.
We recommend sportswear, sports shoes for all participants and for escorts / teachers on excursions.
For tour groups wishing to visit our park, we can organize happenings and cultural events in cooperation with local folkloric and cultural colleges, as long as we know dates earlier.
Special Ideas for your kid's birthday, which are constantly enriched and presented here on the birthday's albums!  For Game Moments that remain indelible over time, we recommend:
Sports party
Hidden Treasure Hunt Party / Adapted on ages / Boys-Girls / Boys Only / Girls Only
Survivor, adventure games with groups, with bandanas, survival equipment, test tracks for true fighters who become famous in the land of the game.
A wealth of collaborative and team-based games based on safe psychomotor treatment for children up to 6 years of age
Traditional games that played on neighborhoods, for all ages, including parents (optional)
Combination of the above with a program that embraces all ages of children and teenagers.
Nurf strategy game (if the party of the celebratory have the equipment, we make them the track that will move during the birthday
Disco party / dance contest
Party caraoke, song contest
Adventure Track / Climbing / Archery, offer your friends a true adventure activity in the largest adventure park in Northern Greece
Party with exploration games in the environment. Start with your friends an excursion to the nature trails, basic survival skills and trials that only with cooperation can be overcome !!
We work together to make your dreamy birthdays come true. (Intent notification 20-30 ago.)
At all birthday parties, commemorative diplomas and prizes are awarded with the theme of the party and the name of the celebrator, if you wish.
Contact us on the phone 697 28 46 291 ή 697 47 00 132 or come to Polytheasi, after you scheduled an appointment .
For more photos, see our featured Facebook album.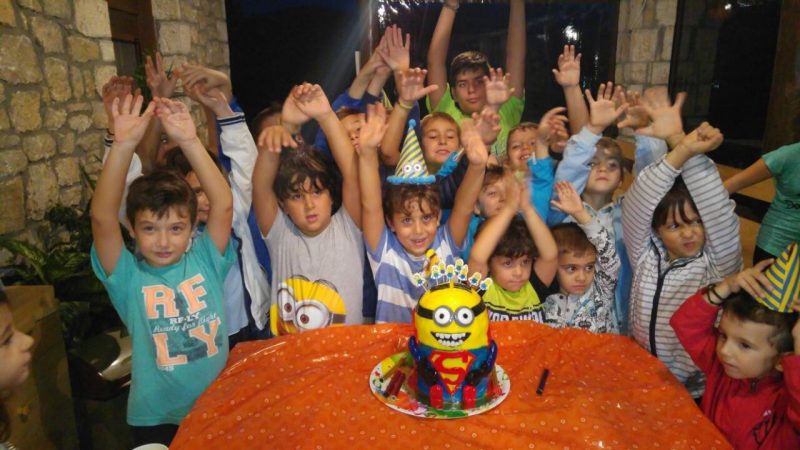 Chow hall / Restaurant / Grocery store
Coffees, juices, soft drinks, beers, toasts, club sandwiches, dakos, hot dogs, salads, pilaf, variety of meat, chicken souvlaki, sausage, potatoes and a variety of tsipouro are all in the availability of the guests.
In organized groups, you need to preorder your menu at least five days earlier prior to your arrival, so that you can have the best meat at the best price.
Handmade wooden creations, plenty of jewelry, perfumes, cosmetics, inexpensive gifts for our friends, for every occasion, for every age.
Α beneficial treatment with multiple benefits for stimulating the immune and musculoskeletal system.
After scheduled appointments to 6972846291.